15 Ways to Design Non-Floral Wedding Centerpieces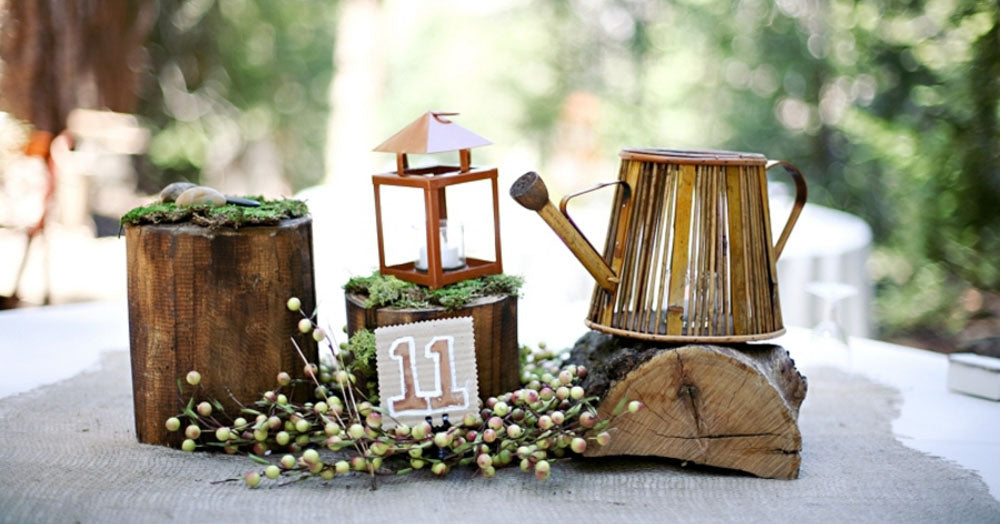 Most weddings are decked out with flowers in the ceremony and reception venues. But your big day isn't limited to bouquets in every corner. You could capture the mood you're aiming for with non-floral wedding centerpieces; here are different ways to design decorations without any flowers.
1.  Add an Antique
Is your wedding opting for the vintage or classic look? Set the mood by placing small to medium antique items as the table centerpiece. You can vary the items per table by having them tell a story or alluding somehow to the guests seated.
2.  All About the Lights
From candles, lanterns, lights, to candelabras, using these light sources as centerpieces can add a dramatic touch to your big day. Consider a literally candle-lit dinner by adding a number of large candles in the center. For a minimalist feel, stick to one candle or lantern per table or elevate the light sources for a playful design.
3.  Bring in the Branches
Still want a plant as your wedding centerpiece? Place a branch on each table and decorate it with an assortment of items like hanging candles or crystals. You could also paint the branches in glamorous colors like gold or opt for neutral tones like white.
4.  Don't Serve the Produce
Instead of serving guests fruits and vegetables, see how mixing and matching them in a basket could work as your non-floral wedding centerpiece. Produce has just as much color as flowers, so it's just a matter of playing around with the combinations. You could also stick with greens and style artichokes and other greens in a vase.
5.  By the Bottle
Put those used wine bottles into good use and see how they can be decorated into wedding centerpieces. You could paint each bottle to label the table numbers. Plant lovers can even use the bottles to host mini gardens for an even more unique non-floral wedding centerpiece.
6.  Take Them to the Beach
Don't limit your beach theme to nautical colors. Decorate each table with a different array of sea shells then add other sea elements like twigs, corals, and branches.
7.  Hark Back to Old Hollywood
By Dennis Kwan Weddings via The Knot
A large feather-filled centerpiece could do the trick for those who want to go glam with a hint of restraint. Peacock feathers work well with a colorful play in the table design. Tall, white feather centerpieces make the biggest statements.
8.  Paper Play
By Harwell Photography via Hey Wedding Lady
There are tons of possibilities when it comes to a paper-made wedding centerpiece. If you still want flowers but are working on a budget, paper flowers can create a similar effect. You could also place pinwheels as a centerpiece or even use tissue to create flower shaped pom-poms.
9.  Game On
Keep your guests entertained and your overall wedding design fun with different games as the wedding centerpiece. Anything from card games, Jenga, to Lego sets can keep everyone engaged throughout the night.
10. Let it Hang
How about leave a little more room for your guests and have the centerpiece hanging from the ceiling? Anything from hanging lights or lanterns, green hoops decorated using vines and fern leaves, to floating balloons can add to the affair's elegance. For a more intimate take, try having some photos hang above each table.
11.  Break Out the Books
For the couple that bonds or met through stories, a vintage book centerpiece would definitely suit the wedding. The books can be stacked neatly and complemented with other elements like succulents or candles. For a stylized clutter, try stacking the books diagonally on each other to support the table number.
12.  Go Green
By Loft Photography via Apartment Therapy
Flowers aren't the only plants that work as centerpieces. Tables can be decorated with wreaths or vases can hold playful palm adornments. You could also try spreading the plant's branches or plants across the table instead.
13.  Sweet Centers
Don't want to deal with all those unused centerpieces after the wedding? Serve your guests desserts in an edible centerpiece. Cupcakes can be arranged like a bouquet or serve a small cake that guests can share while waiting.
14.  Mix and Match
Your non-floral wedding centerpiece need not focus on one item alone. Try combining candles, bottles, jars, and herbs or small plants inside a crate or placed on top of a natural looking surface. This rustic combination will make your guests feel right at home.
15.  Holiday Chic
If your wedding is scheduled for fall or near Christmas, consider centerpieces designed around these themes. Decorate each table with autumn leaves and pine cones or combine Christmas adornments like balls and wreaths into an elegant design.
Wedding centerpieces without flowers actually offer more possibilities in terms of decor and color. Only your imagination is holding you back with the design choices.  
Leave a comment
Comments will be approved before showing up.