25 Beach Wedding Ideas to Inspire Your Blue Sky Summer Wedding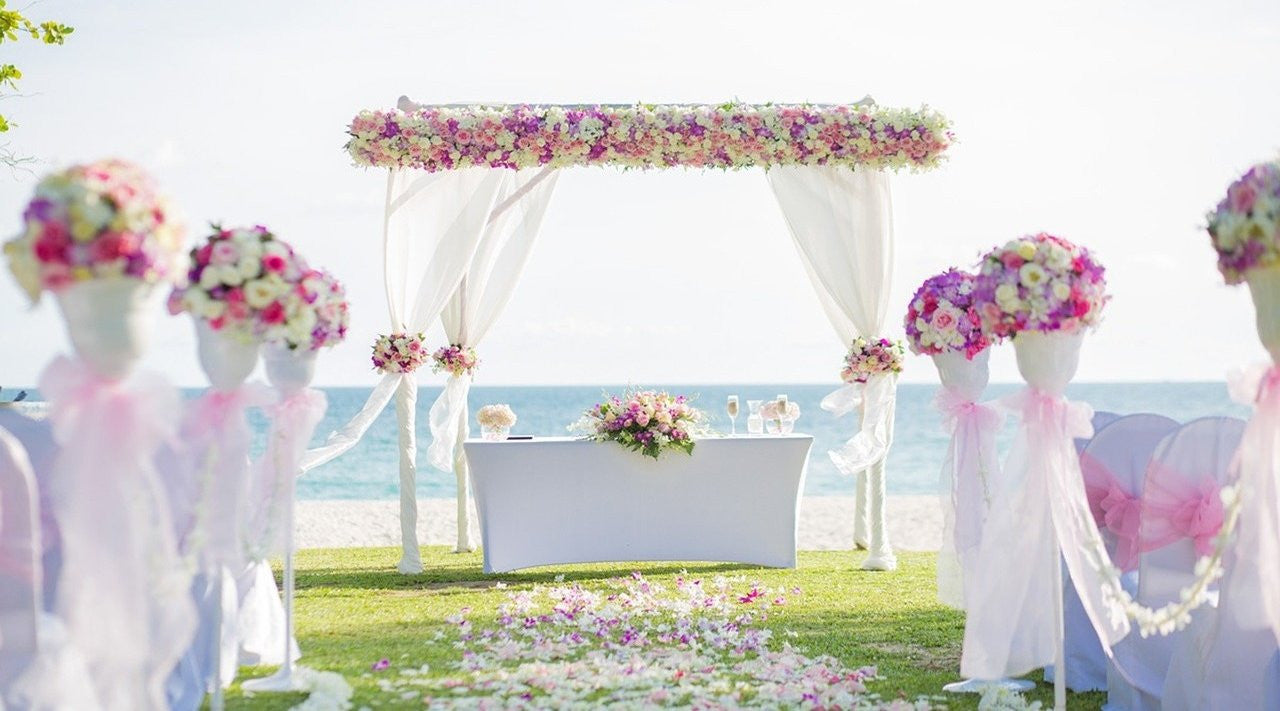 A beach wedding is a dream many couples have, and it's easy to see why: blue summer skies and turquoise waters, palm trees, warm breezes, and the sun setting into a multitude of tangerine shades. It's all so dreamy.
The beach as a wedding venue provides plenty of inspiration on its own, but even if your wedding is taking place in a landlocked space, you can still bring the essence of the sea into your attire, decor, flowers, and much more.
Here we have beach wedding ideas to inspire your ocean dreams.
1.  Invitations
A seaside affair or beach-inspired wedding starts with the invitation. You can get creative with your save-the-dates and wedding invites by including beach-themed elements, like shells, starfish, anchors, twine, driftwood, and glass bottles to tuck your invitation into.
There are loads of beachy designs to choose from, so you're sure to find an invitation that fits the wedding mood, whether it's bohemian beach luxe or laid-back nautical. Look for prints and colors that fit your beach wedding theme, like blue and green palms or orange and pink coral. You could also go for an elegant all-white invitation with laser-cut shells on the opening flaps.
Photo by Samantha Broderick via 100 Layer Cake
2.  Welcome Bags
A wedding welcome bag is especially nice for out-of-town guests, and how much cooler would getting a beach-themed welcome bag be? Create a guest welcome bag by gathering the bag material (canvas or cloth tote, foldable box, wicker, etc.) and filling it with beach wedding essentials: sunscreen, sunglasses, lip balm, bug spray, snacks, water, etc. You can also include local information and must-see places your guests can visit if they're staying awhile. A bonus reason to give your guests welcome bags is that it can double as a beach tote!
Wedding Welcome Bag via Wedding Favy
3.  Signs
A sign is a cute way to welcome your guests and lead them to the ceremony and reception sites. It can be something as simple as a few pieces of painted driftwood pointing in different directions or a table display with a fun saying written on it. You can use wood, mirrors, chalkboards, windowpanes, or framed sentiments to get your message across. And don't forget to write your names in the sand (or use your handprints) and get a photo before the tide washes it away.
Photo by SO Photography via Wedding Wire
4.  Guest Book
A guest book is a way to capture your guests' well wishes and also acts as a wedding keepsake that you can look back on many anniversaries into the future. Although a traditional paper-bound book and podium is perfectly fine to have at your beach wedding, why not take it up a notch and have guests sign a more unique wedding book? A beach wedding guest book might be a surfboard, seashells, wooden anchor, a life saver, sailboat, or a rolled up piece of paper they wrap in twine and place into a bottle. Any of these creative guest books would also make for interesting home decor.
Photo by Bluephoto Photography via Style Me Pretty
 5.  Arches
Ceremony arches and arbors made from dreamy fabrics like chiffon and charmeuse will blow in the breeze and create a beach-beautiful look, especially when paired with flowers and greenery.
Photo by Set Free Photography via Southern Weddings
6.  Groom Attire
The groom will look oh-so stylish in wedding attire that's geared for the beach. Think lightweight shirts, linen pants, rolled up trousers, hats, tropical flower boutonnieres, flip flops, or even a bow-tie and shorts. If the wedding isn't actually at the beach or you want a more elegant look, pair the groom's suit with sea-inspired details like shells, coral, and nautical symbols.
Photo via Hi Miss Puff
7.  Bride Attire 
A bride's beach wedding dress should be lightweight, comfortable, and easy to move around in. Look for airy fabrics like chiffon and lace and details like flutter sleeves, open backs, and illusion fabric. If your wedding is actually taking place on the beach, you might also consider a tea-length dress to keep the hem from trailing through the sand. A slitted or high-low cut also works well for a beach wedding.
Photo by Angga Permana via Polka Dot Bride
8.  Unity Sand Ceremony
What better place to hold a unity sand ceremony than at the beach? This special ceremony commemorates the joining of two people, as each individual pours their own sand into a large vase to combine the two.
Unity Sand Ceremony Set via Wedding Favy
9.  Cake
A beach-themed wedding cake might be as simple as an all-white cake with flowers and shells to a more intricately designed "sand" castle cake. It's up to you and your style!
Cake by Whipped Bakeshop via Mon Cheri Bridals
10.  Flowers
As the wise Martha Stewart once said, the best way to display the beautiful colors of a summer beach wedding is through the bouquets. Sunny yellows, citrus oranges, sunset pinks, and cool blues are just some of the colors you can use in your wedding bouquets. And you can include just about any flower, from roses to tulips to calla lilly. You can even get creative with a DIY bouquet made of petal-like shells.
Photo by Megan Ellis Photography via Knotsvilla
11.  Signature Cocktail
Having a signature cocktail at any kind of wedding is a cool idea, but having one with a beach theme is even cooler. You could serve a classic margarita aptly named Salty Kisses or go for a Blue Ocean which is a sweet and simple mix of vodka, blue curacao, grapefruit juice, and simple syrup. Yum!
Photo via Floridian Social
12.  Centerpieces
There are so many options when it comes to tropical, beachy wedding centerpieces. Fill a vase with shells and Christmas lights, place a candle in sand and encircle with starfish, adorn a table with hibiscus and lanterns, place painted coral in bundles, use sea glass to create a mini work of art, or place flowers in vintage blue and green bottles.
Photo via Deer Pearl Flowers
13.  Escort Cards
Anything to do with shells, starfish, and sand dollars make great beach wedding escort cards, but there are other creative options as well: driftwood, sea glass, plastic sea animals (which you can spray paint silver or gold for a more elegant look), mini anchors, drink umbrellas, sailboat figurines, rocks, leaves, nautical rope tied in a knot, crystals, mini pineapples, the list goes on!
Photo by Corbin Gurken via Martha Stewart Weddings
14.  Shoe Valet
A shoe valet is a perfect addition to a beach wedding, as it allows your guests to slip off their fancy shoes and wiggle their toes into the sand. That's half the fun of going to the beach, right? You might also consider a shoe valet filled with flip-flops for guests to use during the ceremony. The flip-flops can double as a wedding favor.
Photo by Melina Wallisch via Brides
15.  Lantern Release
There's something extremely magical, and quite zen, about a lantern release. Luminaries - or wish lanterns, as they're sometimes called - are a beautiful way to end a wedding. The orange glow lights up the evening sky and sends off good vibes and love into the universe. And how much more gorgeous would this ceremony be at the ocean as the sun sets into the horizon?
Photo by A Brit & A Blonde via Brides
16.  Unique Cooler
Keep drinks cold with an alternative cooler, like a piece of hollowed-out driftwood, a canoe, or an old bathtub. It will add to your beach wedding decor and act as a talking piece for guests.
Photo via Decozilla
17.  Brushes for Sandy Feet
If your wedding is at the beach, your guests will probably have sandy feet at some point. Make sure they go home sand-free by providing small paintbrushes. Dress them up with ribbons and tags, if you'd like, or have them monogrammed with your wedding info. Hang them up, put them in a tub, or place them on guests' chairs with a note so they know what they're for.
Photo by Ricky Stern Photography via Something Turquoise
18.  Ring Pillow
A beach wedding calls for something a little more unique than the traditional ring pillow. Get into the seaside theme by embellishing a plain ring pillow with shells and ribbon or use a real/faux oyster or clam shell as a ring holder.
Photo via Martha Stewart Weddings
19.  Bridal Hair Comb
Channel your inner mermaid by adorning your hair with beach-inspired hair combs. Whether you rock an updo, a braid, or loose locks, your hair will look stunning with seashells, pearls, and sparkling starfish in it.
Photo via Sorta Fashion
20.  Buckets of Toys for Kids
To keep the little ones entertained at your wedding, fill a beach pail with toys, games, and snacks the kids can use during the ceremony and reception.
Photo by Betwixt Studios via California Wedding Day
21.  Favors
Wedding favors fall into either the love or hate category. Don't be that couple that gives lame gifts that get thrown into the trash or left behind. A beach-inspired favor that's both fun and practical - hand fan, sunglasses, personalized sunscreen, etc. - is sure to get taken home and used again.
Personalized Sunscreen by Wedding Favy
22.  Pineapple Palm Tree Tray
A serving tray that looks like a palm tree, but is made out of pineapples? Genius! A so appropriate for a beach wedding. All it takes is a few pineapples, palm fronds, and items found at the hardware store. Learn how to make your own here.
Photo by Jonathan Fong via Ehow
23.  Bridal Anklet
Kick off your shoes and walk the aisle in a bridal anklet instead. Think fresh flowers, shells, barefoot "sandals," dangling charms, and ribbon.
Photo by Brooke Adams via The Lane
24.  Refreshing Mist
A handmade mist can be given as a thank you gift or placed on a table for guests to use throughout the celebration. Lavender, cucumber, and mint are refreshing and gentle enough to use on the skin.
Photo via Weddingomania
25.  Bride Announcement
I'm sure you've seen those adorable photos of kids holding a "Here comes the bride," sign down the aisle. For a beach wedding, you can take that idea and give it a seaside twist by using beach balls or umbrellas.
Photo by Nicole Campo Photography via Confetti Daydreams
So there you have it! 25 beach wedding ideas to get you started with your own beach wedding planning. From flowers and food to shells and cocktails, there are plenty of ways you can infuse your landlocked or seaside wedding with beachy details. Have fun!
Leave a comment
Comments will be approved before showing up.