Wedding Cake Table Decorations for the Detail-Obsessed Bride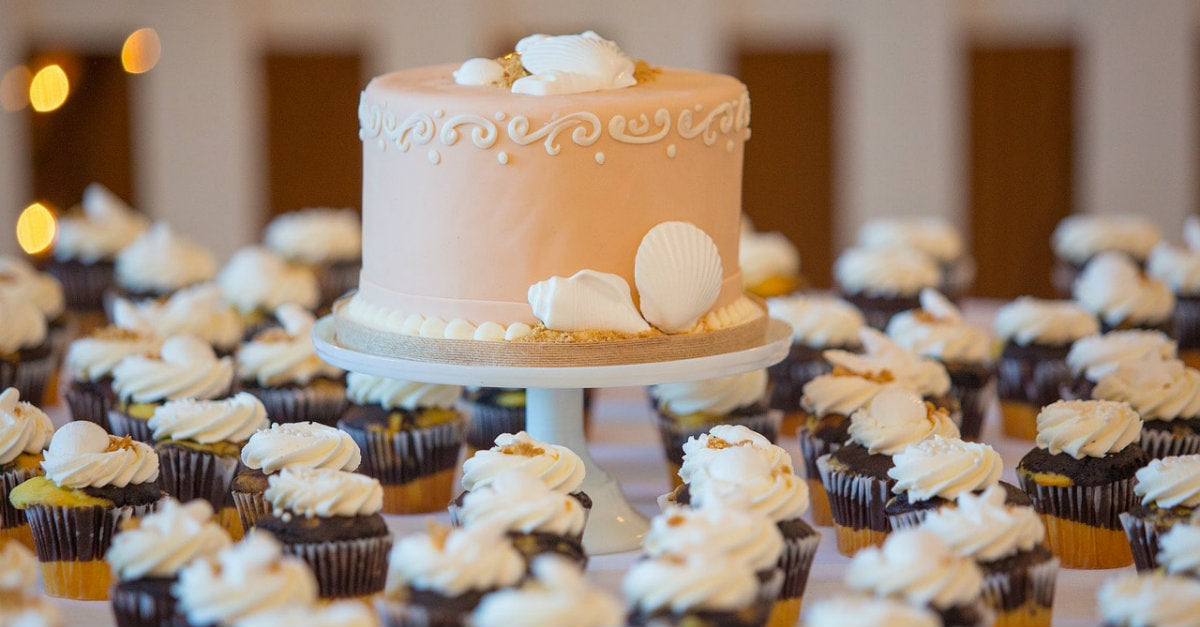 More than a sweet treat for you and your guests, the wedding cake is a part of your wedding's theme and decoration. This is one of the reasons why most brides-to-be (and their future spouse) want to make sure that the cake is a work of art in its own right. Of course, when you have a masterpiece, you'd want to frame it so it stands out. That said, where you place the cake and how you decorate it is just as important as the cake itself.
If you're as obsessed with details as we are, you're in luck. We'll give you decoration ideas that will satisfy your eye for details and design. Here are our top picks for creative wedding cake table decorations.
A Background
Make your cake stand out by giving it a background that will complement it. You can opt for something in a darker hue if your cake is on the neutral side for a bit of contrast. Try something a bit more subtle if your cake is more elaborate or if it has a bright color. And since we're talking details, you also have the option to decorate the backdrop instead of keeping it plain. Try putting flowers on the corners of the backdrop to really frame the cake.
A Bit of Nostalgia
by Jess Petrie Photography via One Fab Day 
Give your guests a glimpse into your relationship by putting frames of your favorite photos together as part of the wedding cake table. Adorn it with flowers that go well with your wedding's theme. If you're inclined, you can also put photos of your and your significant other's parents during their wedding days. Look at it like a table holding your testimonies of love.
Lovely Linen
Got a sweet tooth? We don't mean to influence badly but we say getting a dessert table for your wedding is the best idea. Show your love for sugar by putting your favorite treats on top of linen that has a similar texture to sugar. It gives the idea that the sweetness of the treats overflow (so much so that it cascaded to the linen).
Say It with a Quote
by Melissa Marshall via Junebug Weddings
You and your spouse-to-be may have some favorite quotes or perhaps you have a favorite line from your favorite song. Don't keep those words between yourselves. Let the people who are sharing your happiness and journey be inspired by the quote you live by. Have those words written on a white cloth that can be big enough to serve as a backdrop for your cake. Adorn the top of the cloth with flowers that are similar to what can be found on your cake.
Think Outside the Box
by Kate Drennan Photography via The Wedding Playbook 
Go the unconventional route and use a table you wouldn't have first thought to use for your wedding cake. If you're going for a rustic theme, a vintage desk definitely fits the bill. Throw in a beige-colored lace linen and a few candleholders. Add some tiny trinkets like metal figurines, and you're good to go.
Light it up
by Greer Gottuso via Style Me Pretty 
We don't mean light it on fire, of course. But light and fire definitely are big components to this wedding cake table decoration. Complement your cake with candles all around. You can use votives for a classic look or lanterns for something a bit more country and rustic.
Frame it — literally
by Hazel Paterson Photography via Brides Magazine
Above, we mentioned how you can treat your cake as a piece of art and how important it is to frame it. We meant something figuratively when we said that, but you can take it literally and the result will be just as gorgeous. Instead of a table, opt for wooden racks as the base for your cake. Place a frame strategically in front of the cake, making it look like the cake is a piece of photograph or painting.
Banners
by Chantel Marie Photography via Elegant Wedding Invites 
Banners are great for decorating an outdoor wedding. Tie a banner bearing your favorite quote on two trees hanging above your wedding cake table for a detail that will surely catch everyone's attention. Since the setting is already outdoors, amp up the vibe by going for greens. On the table, put your favorite flowers. Add a pot or two of succulents, too. 
Swing It
by Teresa C via Strictly Weddings
If you're having an outdoor wedding, we say take your wedding cake table to another level… of height. Instead of opting for traditional tables, hang your cake like a swing. There's no such thing as too many florals when it comes to this, too. Use the colors in your wedding theme and make sure there's variety in height, length and texture in the flowers you'll be using.
Got wedding cake table decoration ideas of your own? Comment below to share them with us!
Leave a comment
Comments will be approved before showing up.