Escort Card Ideas You Can Easily DIY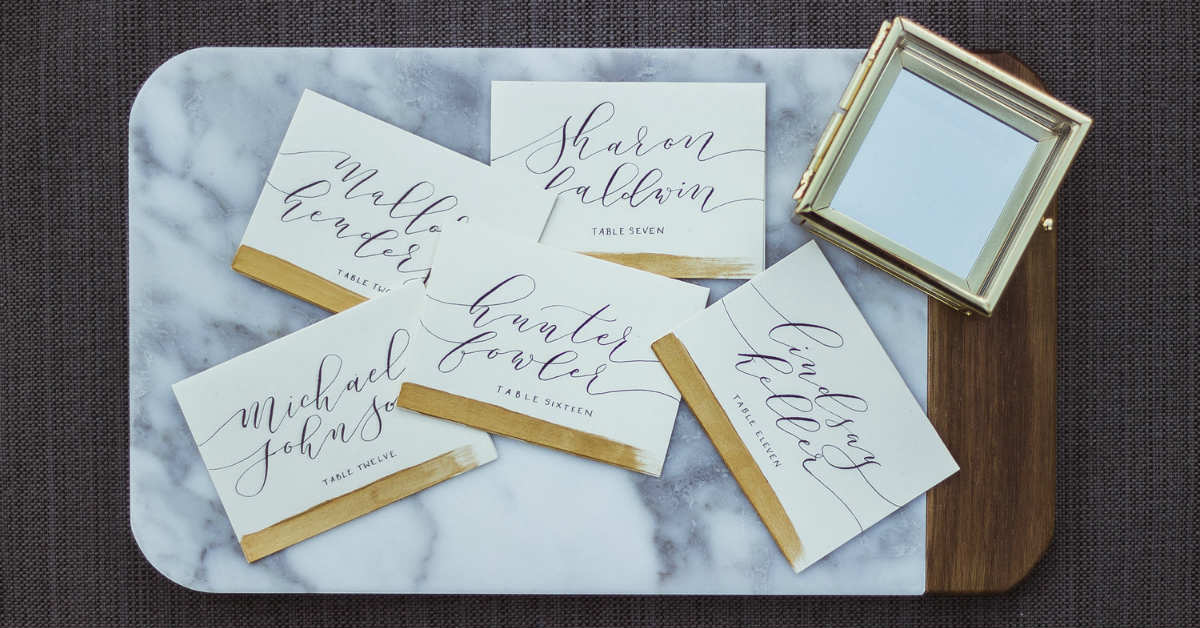 When planning a wedding, you want to think about all the details not only to ensure that everything goes smoothly but also to make sure that every bit of your celebration is in unison with your theme and story. So, no tables should be left unturned. And, well, no tables should be left without place cards and no guest should be without an escort card.
Aside from the overall aesthetic, escort cards make it so easy for you and your guests to get organized and start the festivities right away. So, if you're planning a wedding, make sure you get many escort card ideas, too. Want to make those details special? DIY!
Sadly, not all of us have the luxury of time (and creativity) to whip up something aesthetically pleasing. But there's no need to fret cos we're giving you a bunch of escort card ideas you can easily DIY. Yes, even if you don't think have a bone of creativity in you.
Table Number Cut-out
Print big numbers on a rather thick cardboard and cut them. Paste them onto a piece of wood, and write the names of your guests on them. You're going to need as many numbers as your guests, of course. The nice thing about this is you don't need to spend much money-wise as well as time-wise.
Paper Roses
It's time to take twirling – of the paper variety – a bit more seriously and try your hand at creating paper roses. You can even help the environment with this DIY if you use egg cartons! Just get two differently sized egg cartons; one should be bigger than the other.
Using the bases for eggs, make a cup. Cut the sides to create petal shapes. After that, remove the base of the cup so you're left with just the petals.
Roll the paper to make it look like a rose. For the bigger egg carton, do the same first two steps but don't remove the base. Paint the cut cartons and paste them together to make the rose.
Once you're happy with the paper rose, attach a stem made with wire and floral tape. Twist the stem, creating a base for the flower that can stand on a table. Print or write the names of your guests on plain paper and attach to the stem.
Envelope Cards
Carrie Patterson Photography via Style Me Pretty
This might just be the easiest-to-make but still one of the cutest escort cards ever. You're going to need a few things: small envelopes or bags in your choice of color or print, name tags, table numbers, twine, ribbons and a board to pin your envelopes to.
Stick the name tags outside the envelopes. Put the table numbers inside the envelope. Embellish the envelopes with twines and ribbons or any other way you want. Pin the envelopes on a corkboard or foam board, et voila!
Paper Boat Origami
Caroline Tran Photography via Style Me Pretty
Don't be intimidated by the word origami. This specific style is easy to do. In fact, you may have already done so when you were younger. If your wedding theme has anything to do with the sea, sailing or travelling, this one's definitely a cute option for you.
Fold origami paper boats. Print out or write the names of your guests and their table numbers on paper, and cut them out. Paste them onto a toothpick or a paper party straw. Paste the sticks or straws with names on the paper boats.
Mason jar With Cards
Henry + Mac via Wedding Chicks
Escort cards in mason jars are perfect for garden or beach weddings. And they're super easy to do, too. Decorate the mason jar according to your wedding's theme. Print out name tags and table numbers, and attach them to the jars. You can use twine or ribbon. Hang the mason jars in front of a white wood backdrop, and you have an amazing rustic addition to your wedding.
Clothespin Cards
Braedon Photography via Tulle and Chantilly
This one takes the cake for a nice decoration that takes minimal effort to make. You only need tags bearing the names of your guests and colorful clothespins. You can decorate the clothespins using washi tape or paint. Pin leaves or herbs, depending on your theme. Hang wires over your chosen backdrop, pin away, and you're done!
Tassel Cards
Anneli Marinovich via Bespoke-Bride
Liven up an otherwise simple escort card by giving it a tassel (or two). You can either buy tassels that are already made or make your own using yarn or string. Print your name tags and cut them however you please. Punch a hole at the bottom of the tag and attach your tassels with a string.
Succulent Escort Cards
This one's easy as pie. You only need a pot of succulents and a stick with a tag bearing your guests' names and table numbers.
Got DIY escort ideas of your own? Share them with us!
*Cover photo by Brush & Nib Studio
Leave a comment
Comments will be approved before showing up.